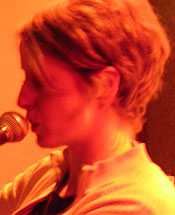 Jennifer Walshe 's room
Moted sitting-room. The room is uncluttered, spacious and square, but the angles are slightly skewed, leaning into a parallelogram. The ceiling is low and the floor is sunken.
The only light floods in through the windows in front of you. These windows are a wall of fluorescent green foliage, gushingly translucent with electric light. The glass in the windows isn't frosted, but it somehow clouds the light coming through, smearing it with Vaseline, wiping it with weak milk.
The walls are painted with liquid white noise, shimmering and muted like chalk; they feel like the sheened patina on brand-new pearlescent eye-shadow.
To your left is a bare, sleek, sideboard lacquered in warm milky coffee. The sideboard huddles with a low padded bench covered with pallid suede the colour of coconut crème brulee.
To your right immaculate featureless mannequins stand neatly in formation – unhemmed thin jersey cloth drips from them, dusted with assymetrical stitching in pale beige, caramel, anorexic blues, purples and golds.
The carpet under your feet feels like warm frost, woven from feather boas the colour of rain. It's the perfect temperature in the room, the air like cream blossoming into soup as it brushes your skin.
'The sounds I am interested in include those that we hear all the time but are normally considered flawed or redundant: twigs snapping in a burning fire, paper tearing, breathing, instrumental sounds that aren't considered 'beautiful' in standard terms. I think these sounds have their own beauty in the way that pebbles on a beach or graffiti can have.'
Jennifer Walshe was born in Dublin, Ireland in 1974. She studied composition with John Maxwell Geddes at the Royal Scottish Academy of Music and Drama, Kevin Volans in Dublin and graduated from Northwestern University, Chicago, with a doctoral degree in composition in June 2002. Her chief teachers at Northwestern were Amnon Wolman and Michael Pisaro. In 2003 Jennifer is a fellow of Schloss Solitude, Stuttgart and in 2004 will take up residence in Berlin as a guest of the DAAD artist-in-residence programme.
Jennifer's work has been performed throughout Europe, the U.S. and Canada by ensembles such as ensemble récherche, Ensemble Resonanz, Apartment House, ensemble Integrales, CrashEnsemble, Champ d'Action, the Rilke Ensemble, the Irish Chamber Orchestra, the Irish Youth Wind Ensemble, the Bozzini Quartet, Concorde, Ensemble Musica Nova, ensemble chronophobie, the Scottish Chamber Orchestra Wind Quintet, the Hebrides Ensemble, Psappha, Vamos ! and Q-02 among others.
In addition to her activities as a composer, Jennifer frequently performs as a vocalist, specialising in extended techniques. Many of her recent compositions were commissioned for her voice in conjunction with other instruments (XXX_LIVE_NUDE_GIRLS!!!, here we are now, ná déan NÍL CEAD, NOW WASH YOUR HANDS and dirty white fields, for example). She has performed in her own works in festivals such as Wien Modern, Wittener Tage für neue Kammermusik, Donaueschinger Musiktagen, the Huddersfield Contemporary Music Festival, SoundField (Chicago) the Internationale Ferienkurse für Neue Musik, Darmstadt and Music at the Anthology (New York). Jennifer is also active as an improviser, performing regularly with musicians in Chicago and Europe.